Soil stabilization and road construction in Ukraine becomes even more effective with Seppi M.!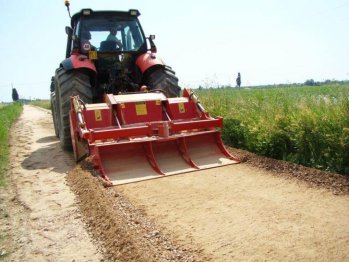 Annually, over 80 years already, Seppi M has been introducing various novelties and updates to the market.
It makes no difference whether it is a new forestry mulcher or a rotovator, a new type of transmission or a hammer, all these updates are designed to facilitate work of the clients who use Seppi M. mulchers both in Ukraine and around the world.
So today is not an exception because Seppi M presented a new type of Ultra Pick V.Lock hammer designated for Supersoil rotovator at the Bauma 2019 exhibition.
Prior to this Supersoil rotovator was equipped with Ultra Mono Protect V-Lock, hammers, which perfectly mulch wood, grind stumps, stones and rocks.
Now they can be replaced with Ultra Ultra Pick V.Lock hammers for effective grinding of concrete and especially asphalt, taking into consideration the fact that the latter is a viscous product.
Now Supersoil rotovator produced by Seppi M takes up position of a recycler for soil stabilization and foundations building on any type of road!