Tree pruner for a loader
Tree pruner for a loader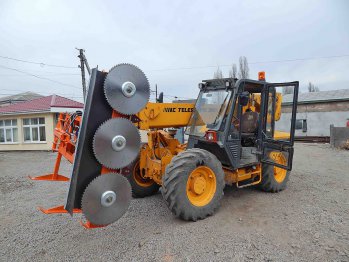 Mechanic tree pruners are perfect for cutting trees as well as small trees and bushes in wood lines, roadside plantings and around the fields.
We offer machines for tree pruning which can be used for maintenance of orchards with perennial fruit trees of various species.
Depending on the complexity of work carried, working speed of such mechanism can reach 3.5 km / hour, it means that one machine mounted on a tractor and one operator can 100% replace a few dozens of people with hand guided tools (pole pruners and power saws).
Clearing out several meters of a field from branches around whole perimeter can add 5 % of space designated for cultivation and sowing.
If you buy the pruner, you will have:
bigger crop acreage (due to pruning of overgrown wood lines around the fields)
unhindered access to the fields for farm machinery
less working time due to mechanization of cutting process
fulfilling requirements of road services and administrations
ability to cut trees

from 0 to 6 meters

high

guaranteed cutting of various species of trees up to

20 cm in diameter

(if the tractor is equipped with creeper gear)
for horticultural business - dependable machine for day-to-day care after tree crowns.
Technical characteristics:
Tractor

МТЗ 80/82

.

Т150

and others

Number of saws -

3 х Ø 600 мм.

Maximum cutting

Ø 200мм

.

Maximum height

6 м

.

Cutting width

1900 мм.

Independent hydraulic system 100 l capacity
Pump -

100 liters per minute

PTO shaft – 1000 rpm
For steady operation of pruning branches up to 15-20 cm in diameter the tractor must be equipped with creeper gear..
It may be installed as additional option.