Onboard computer for field sprayers
Onboard computer for field sprayers
Computer INGUL 100s is designed for managing the process of spraying from a tractor cab or a self-propelled sprayer. It is possible to control the main, regulating or section valves.
The main aim of usage INGUL 100s is the maintenance of constantly fixed quantity of sprayed liquid for providing smooth spraying throughout the whole field.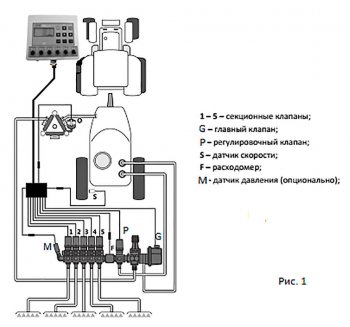 Computer is designated for spraying systems, assembled according to the scheme, showed on the picture 1. –→
Technical characteristics :
Parameter
Definition
Display
LCD 20x4
Power supply voltage
8-17 В of constant strain
Working temperature
-10⁰C – +60⁰С
Type of speed sensor, flow rate meter
(with opened collector)
Pressure sensor
analogue 4-20 мА
Outputs
Main valve control
Proportional valve control
5-section valve control
Protection from incorrect starting up of power supply poles
Yes
Защита от короткого замыкания на выходе
Yes
Dust and moisture protection
Standard IP 50
Maximum weight 800 g
800 g.