Fan Orchard Sprayer MaxiMarin
The Fan Orchard Sprayer MaxiMarin significantly increases productivity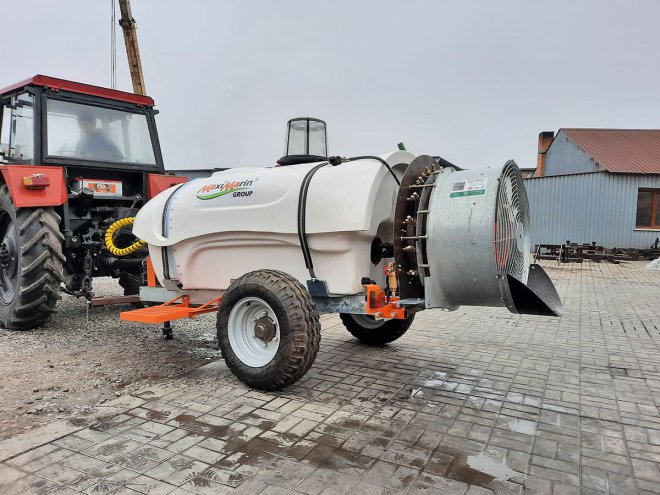 The Fan Orchard Sprayer is designated for providing high quality and smooth spraying of orchards, vineyards, berry fields applying special chemical solutions. Its use guarantees an increase in the yield of applied crops. The treatment performed protects plants from diseases and pests.
Constructive peculiarities of the Fan Orchard Sprayer ensure practicality and effectiveness of protective treatment. Owing to the tower existence spraying can be carried out up to 6 meters in height. The approximate speed of work is up to 15 km / h. with application speed from 60 to 400 liters per hectare.
Completing units and advantages:
- Tank material - fiberglass;
- An additional tank for pure water;
- The solution mixer placed in a tank - hydraulic;
- Self-injection of fluid into a barrel from external tanks;
- All metal parts of the sprayer, frame, fan group are galvanized - are not susceptible to corrosion and oxidation. All above mentioned features increase operating life of the machine.
- The hinged type of a trailing device allows copying ground contour according to the radius of tractor rotation, increasing its cross-country ability and stability on uneven area.
Technical characteristics:
Tank:
2000 l, corrosion resistant fiberglass with stem cutting bar
hydraulic jet mixer, lid with lock, filter, front and side level indicator, drain valve.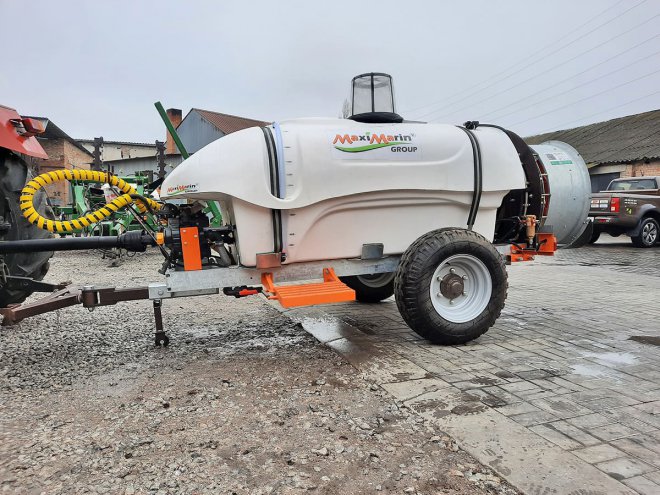 Pump:
Comet APS 145 - high pressure diaphragm pump, capacity 149 l/min, 0-50 bar.
Fan::
Frame:
Reinforced construction with a step plate, galvanized, tires 10.0/75-15.3.
Frame, tower and all metallic components are galvanized (not exposed to corrosion and oxidation)
Towing device of hinged type
2-point hinged coupling, for copying ground contour
PTO shaft with freewheel
Regulator:
Mounted regulator produced by Comet company