Rotary harrow (mounted type) is designated both for hoeing soil and removing weeds.
The rotary harrow pumps air into the soil and removes weeds.

The mounted rotary harrow - is an agricultural mechanism equipped with sun-like wheels with a diameter of 520 mm, of special shape, assembled in blocks into one common unit.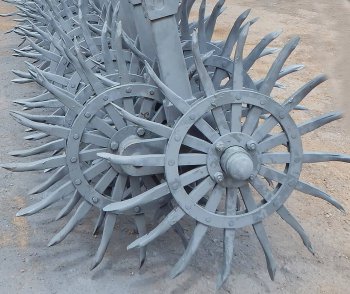 The Rotary Harrow MRH is intended for both pre-emergence and post-emergence harrowing of field crops (grain, tilled, industrial crops) to provide surface tillage and aeration of the soil, destruction of filamentous weed shoots.
During tractor movement, wheels start rotating spontaneously (similar to disk implements), going deep into the soil up to 3-5 cm, in that way the surface crust is destroyed.
At the moment of a wheel beam touching ground surface, micro explosion leaves the earth, due to this process air is forced into the soil. As a result, the nitrogen contained in the air turns into a fertile soil layer and is actively absorbed by plants.
Benefits: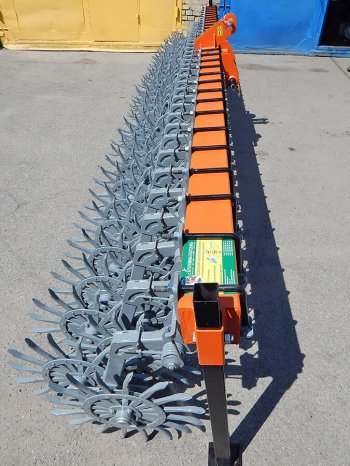 Foot - forged, hardened, saturated with carbon, quick-changeable;
Wheels - a pendulum mechanism that copies ground terrain;
2 – stage adjustment of a spring in order to change the level of load on the ground;
Reinforced frame;
Wheel hub bearing – double rolling ;
Quick-changeable working elements;
The mounted attachment is universal, does not require outside assistance;
Technical characteristics:
| | |
| --- | --- |
| Working speed, km/hour | 15 |
| Working width, m | 5,8 |
| Productiveness, ha/hour | 7 |
| Working depth, cm | 2-5 |
| Number of sections, pcs | 33 |
| Number of working elements, pcs | 66 |
| Wheel diameter, mm | 520 |
| Distance between working elements, mm, | from 70 |
| Suitable tractor class | 1,4 і 2 |
| Maintenance staff | 1 operator |
| Type of mounting | Mounted |