Spike rotative weeder
Spike rotative weeder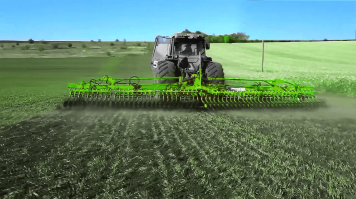 It is a well-known fact that a smart approach to the cultivation of field crops at all stages of growth guarantees a good harvest.
Namely for this purpose the Spike rotative weeder was created, as it simultaneously combines the advantages of a conventional tined weeder and a rotary hoe and has a wide range of application. The work is carried out by steel pins which are embedded in a plastic disc set at an angle. Tined rotary working tools uproot weeds, promote tillering, destroy hard surface crust and saturate the soil with air.
The possibility of hydraulic change of the disks height above the ground provides regulation of pressure level of the Spike harrow on the soil. Thus, the mechanism is suitable for both surface work on special ("sensitive") crops and for deep.
Placement of working bodies at an angle ensures complete treatment of the row surface avoiding plant injury.
Technical characteristics:
Working body diameter - 500 mm
Number of working bodies: 60 pcs
Spike diameter - 8 mm
Distance between disks - 15 cm
Hydraulic adjustment of pressure (the full discharge of working bodies is possible)
Working width - 9 m
Hydraulic folding into transport position
Required tractor capacity - 140 hp
For getting additional information please contact the specialists of PE "Agroremmash-Plus"
25014 Kropyvnytskyi, Zamiska 5
tel.: +38 (066) 955-36-93, +38 (096) 464-73-93, +38 (095) 540-71-29
e-mail: This email address is being protected from spambots. You need JavaScript enabled to view it.
www.agroremmash-plus.com