Seppi M Starsoil

- crushes stones, trees up on the depth

up to 40 cm

into the soil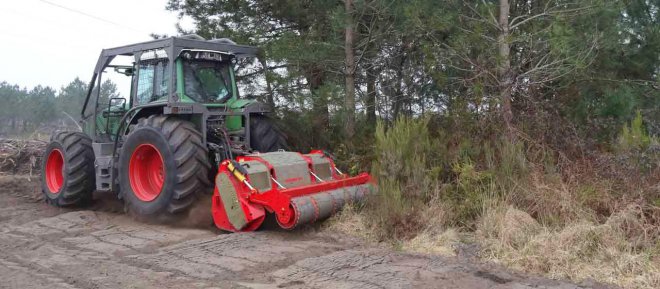 Why is Starsoil - the best choice while purchasing a forestry mulcher or rotovator in Ukraine?
Let's point out constructive features of this forestry tiller and what they are intended for.
Chassis made of wear-resistant and antiabrasive

Hardox

steel.
Replaceable plates placed on chassis and made of Hardox steel guarantee virtually unlimited chassis life.
Replaceable rotor necks (hubs) – there is no need to install a new entire rotor, it is just enough to replace a neck (hub)
Lateral gear drives - more power, higher performance .
Active oil cooling system equipped with temperature sensor per each rotor for ensuring continuous operation in the hardest conditions.
Two-speed gearbox. Rotor rotation speed is changed by switching a lever on the central gearbox. In this way at 1000 rpm of a tractor's PTO the rotor can operate at a speed of 1100 rpm for qualitative mulching of trees and 500 rpm for grinding stumps, roots and stones with significant deepening.

ADAM (W-Kinematics) PTO

shaft angles alignment system allows the machine to be lifted high or gone deeper into the soil with preserving angles of PTO shaft always in the same position. Higher shaft service life, less load on the PTO shank of a tractor. Higher productivity in all working conditions.
Integrated torque limiting system - for protection against sharp shocks and jamming.
Adjustable anvil bar – adjustment of the correlation between "performance" and "quality".
Wear plates placed both on the chassis and hood guarantee a high degree of material mulching.
The patented rotor of next generation is a combination of tungsten carbide inserts hammers ULTRA MONO PROTECT + MONO & ULTRA MONO EXTREME. V-shaped arrangement along the length of a shaft for homogeneous distribution of material. Wear-resistant tool holders with additional lateral protection.
Protection by 2 rows of massive chains to control material discharge. All above mentioned construction peculiarities of a forestry rotary mulcher-rotovator make it the best in its class, allows using the mulcher as efficiently as possible, with low operating costs and continuously in the most aggressive conditions.

Seppi M

– is a pioneer in production of forestry mulchers, tillers and rotovators in the world!