Injection wheels MaxiMarin are mounted on different types of agricultural equipment
We are often asked the question: Is it possible to adapt injection wheels of our production to the tractor mounted equipment such as sprayers, cultivators, harrows, etc.
Of course it is possible, and even necessary!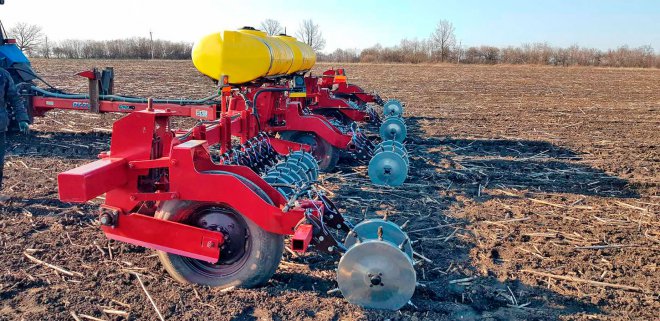 Dosierung von Flüssigdüngern - Dosage of liquid fertilizers
Here are main technical requirements:
The agricultural unit must be equipped with the fluid supply system (tank, pump, pressure regulator, filtration system and ideally a computer).
Further, depending on the working width, it is necessary to take the required number of multi-injectors (wheels) and connect them to a pressure line by a nozzle.
It is important to note that arrangement of the working bodies should not interfere with the geometry of hydraulic folding of the unit.
In other words MaxiMarin (Cultan) injection wheels can be easily adapted to:
OP - 2000 (3000) sprayers

and other models
KRN / KRNV
Most harrows and cultivators
Self-propelled sprayers
As an example, installation of MaxiMarin injection wheels (41 pcs) on the WILL RICH cultivator with working width of 10 meters, Kharkiv Region, March 2020.
For more details please contact us by tel. +380669553693