Root feeding of plants in the conditions of No-Till technology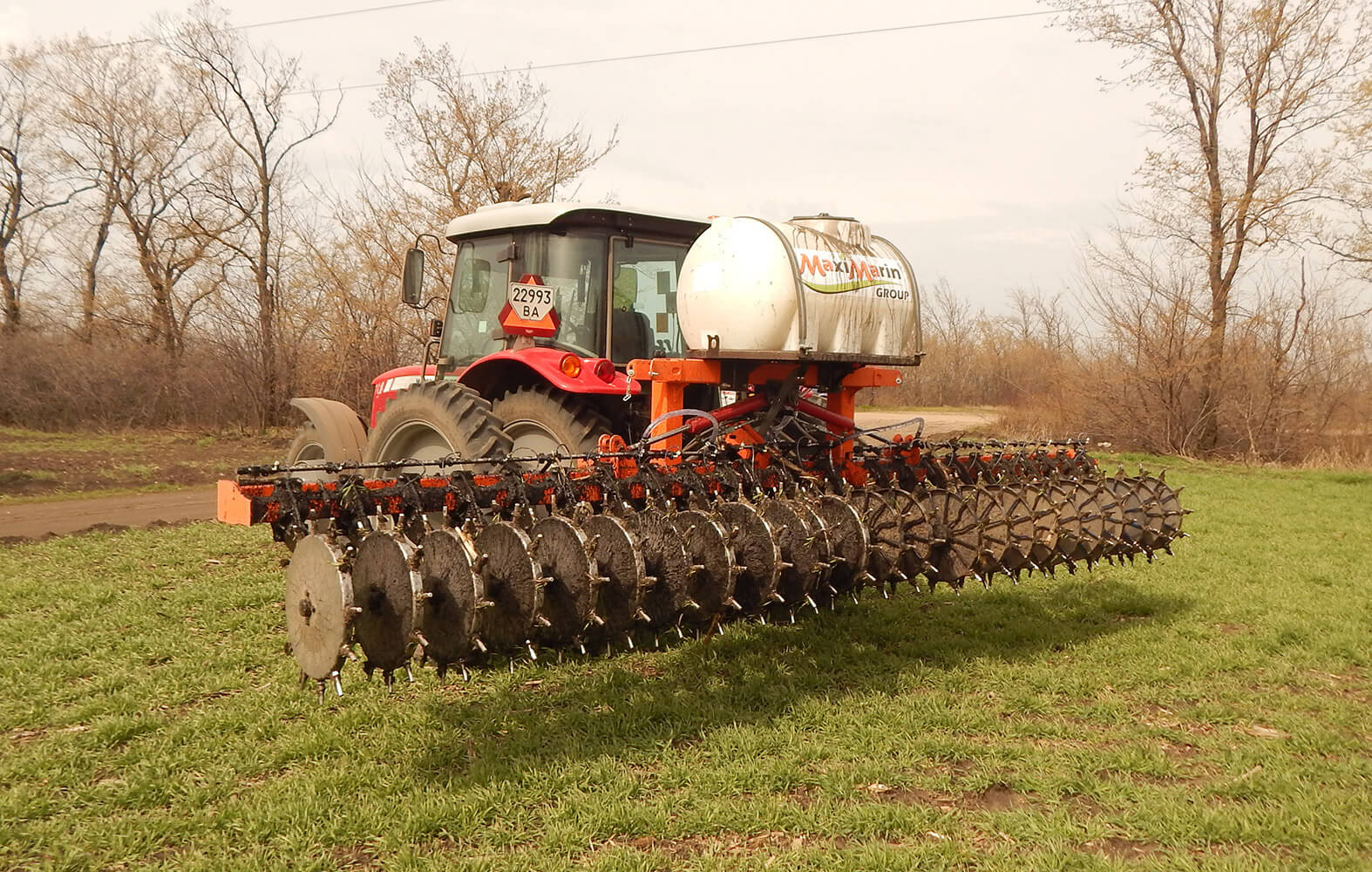 Dosierung von Flüssigdüngern - Dosage of liquid fertilizers
About 6.5 million hectares of agricultural land in Ukraine are either degraded or unproductive.
Above mentioned data are provided by the Food and Agriculture Organization of the United Nations.
According to the opinion of other experts, impoverished soils occupy much bigger area and consist about 15 million hectares. The decrease in the amount of humus and the general deterioration of land is caused both by climatic conditions changes and, for the most part, the negligent attitude of tenants and owners.
And if the field, deserted as the result of the owner's negligence, is in full responsibility of the farmer, then the deterioration of soil composition as a result of climate change requires the intervention of even the most responsible farmer and search for new solutions.
Among the most common weather enemies are temperature changes, which spray soil into small particles, afterwards the wind carries them for hundreds kilometers away. Experts also add the problem of soil leaching here.
Is No-till technologyy necessary in Ukraine?
More and more farmers are paying attention to zero tillage technologies, which help to retain moisture and improve soil condition. The stubble preserves snow cover for much longer period and, accordingly, retains more moisture and delays melting. At the same time, it prevents leaching and weathering of soils.
However, despite all the advantages of the method, there occurs the question of additional plant nutrition and fertilization, the effectiveness of which can be reduced to zero due to a layer of mulch and the absence soil loosening.
Implied:
No-till technology

involves no plowing and cultivation.
Because of this both stubble and a layer of debris remain on the surface.
Fertilizers that fall on the layer of mulch simply do not penetrate into the soil in the absence of necessary and timely amount of precipitation..
Actually here comes the necessity for additional costs (equipment, fertilizers, time, human resources etc.).
How to turn No-till into wow-till?
The risks of above mentioned technology can be minimized by using Cultan, fertilizing technology, which provides dosed and controlled application of fertilizers into the soil using the Injection Wheel Fertilizer. The principle of work consists in injecting liquid fertilizers into the soil under pressure. In this way, the active substance enters plant root system immediately and does not require additional precipitation.
In addition, a viscous capsule is formed in the soil, which gradually releases both the substance and moisture to a plant, providing long-term nutrition and prevention of fertilizers leaching.
To conclude all above mentioned it can be stated that the Cultan technology – is the only adequate and effective method of fertilizers application in the implementation of zero tillage technology. In addition, application of fertilizers in the boundaries of this technology speeds up the transition to No-till, which usually takes from 3 to 5 years.